Emergency AC Repair in Portsmouth, VA
With high temperatures and humidity levels, summers in Portsmouth, VA, can be unbearable. It's essential to have a cool and comfortable home to escape the heat after long days out in the sun. However, your air conditioning system may malfunction unexpectedly. At Energy Pro Heating & Cooling, we understand that AC breakdowns can occur at any time and should be fixed promptly. Therefore, we provide emergency AC repair services that are available 24/7 to ensure that our clients' comfort is not compromised.
If you have an AC issue that can't wait, we're here to help. Call our team at (757) 699-4090 or visit our contact page to schedule an appointment.
When to Schedule an Emergency AC Repair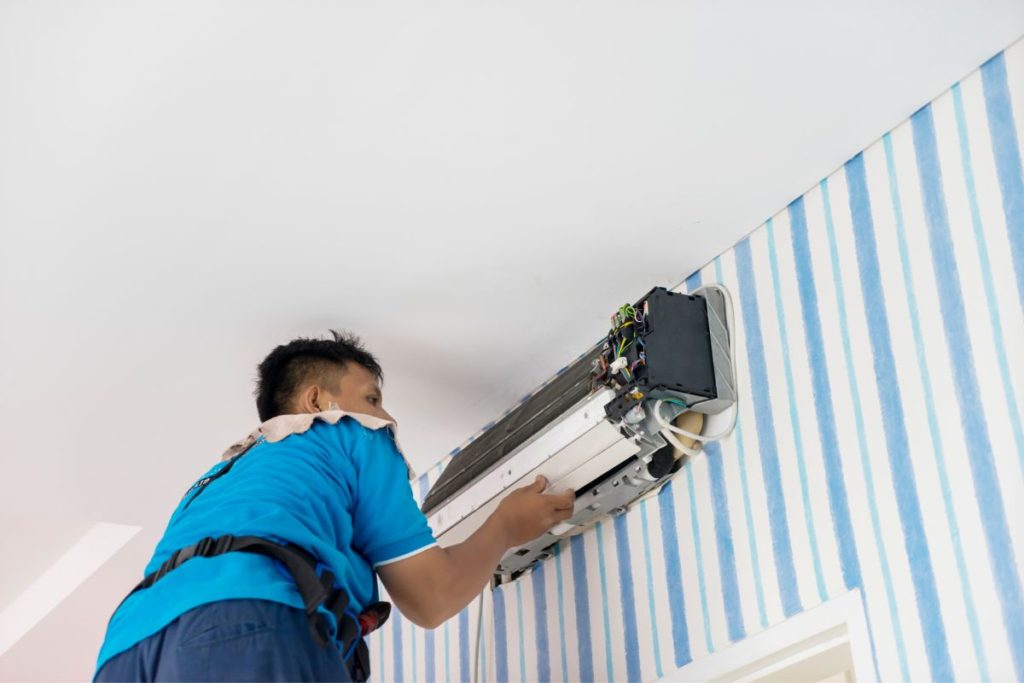 Most AC issues don't need to be fixed the moment they come up. Minor problems like slight reductions in performance or unusually noisy operations can generally wait until business hours since they won't prevent you and your family from staying safe and comfortable at home.
The kinds of issues that justify scheduling an emergency air conditioning repair are those that prevent you from using the system or have the potential to jeopardize your family's safety. Common examples of signs it's time to call our emergency air conditioning company include:
An air conditioner that won't start up
Concerning noises, including grinding or squealing sounds
Burning smells and unidentifiable odors
Hissing sounds coming from refrigerant lines
Water leaks from the evaporator
Circuit breakers that won't stop tripping
If you notice any of these problems, turn your AC unit off right away and call us to schedule an emergency AC repair visit. We'll quickly identify the underlying problem and recommend the most effective and cost-efficient solution.
Common Emergency Services
Here at Energy Pro Heating & Cooling, we've seen it all. No matter what's wrong with your unit, we can provide the right emergency air conditioning service to get it back up and running in no time. Some of our most commonly provided emergency AC repair services include:
Tightening loose air handler belts
Addressing blower motor problems
Patching refrigerant line leaks
Thawing frozen evaporator coils
Fixing compressor problems
Recalibrating thermostats
Whether your unit is refusing to turn on or you're just not convinced it's safe to use, you can always rely on our emergency AC service technicians to help. Not every emergency air conditioning company places its customers' needs first, but we're different. When you call us for help, you can always trust that we'll provide the services you need at competitive prices.
Is It Worth Paying for Emergency Repair Services?
Let's get one thing out of the way. Scheduling an emergency air conditioning repair visit will cost more than an ordinary maintenance call because it means one of our valued technicians will be taking the call on their time off. We value our employees and their time.
We also value our customers, so while the emergency AC repair fee is non-negotiable, we do everything possible to keep costs low. That might mean implementing a temporary fix until business hours roll around so that we can source more affordable parts or recommending ways to make things work until the end of the weekend without jeopardizing your family's comfort.
When you require emergency AC service, it is important to act quickly. Waiting for a regular appointment may cause more harm to your cooling system and lead to increased expenses. In some cases, emergency AC repair can even save you money. By waiting for a regular appointment, the problematic component may cause further damage to your cooling system, resulting in more costly repairs. Therefore, it is advisable to call for emergency AC repair as soon as possible to prevent further damage to your unit and avoid additional expenses.
A malfunctioning air conditioner can also add extra money to your monthly bills. Even if it's continuing to produce cool air, an inefficiently operating unit will have to pull more power, leading to higher energy consumption and more wear and tear on your equipment. If it seems like there's something seriously wrong with your unit, it's never worth the risk of taking a wait-and-see approach.
Work With a Trusted Emergency AC Repair Company in Portsmouth, VA
Energy Pro Heating & Cooling is the go-to source for emergency AC repair in Portsmouth, VA. Our trained and certified technicians are available round-the-clock to diagnose and fix your air conditioning issues, ensuring your comfort and safety even in the hottest months of the year. Trust us to provide quick and reliable service using the latest tools and technology to get your AC up and running again as soon as possible.
When something goes wrong with your home's cooling system, you need an emergency air conditioning service you can trust. Contact us online or call (757) 699-4090 for all your emergency AC repair needs in Portsmouth.