Why Choose Us, Energy Pro Heating & Cooling in Portsmouth, for Your HVAC Needs?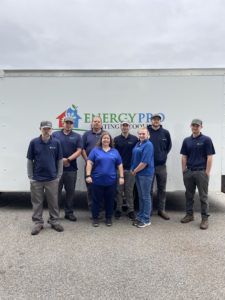 At Energy Pro Heating & Cooling understand the importance of a dependable HVAC system for the comfort, safety, and well-being of every homeowner. And with over 20 years experience, great online reviews and 4.9 out of 5 stars, we guarantee you'll be  happy with our service.
No matter where you are in the Hampton Roads region, our promise to deliver top-notch heating, air conditioning and indoor air quality service and repair. Our experienced HVAC technicians are trained to tackle any challenge, regardless of the make or model of your heating or cooling system. And when it's time for an installation, we take pride in providing only the best residential equipment, ensuring you receive a system that lasts and operates efficiently.
We're also proud of the convenience we offer. Understanding the unpredictability of HVAC issues, we've made ourselves available 24/7. Whether it's a weekend, holiday, or the middle of the night, we're just a call away, ready to address your needs.
 Click below to learn more about any of our HVAC Services
The trust and rapport we've built with our community mean the world to us. Our exceptional rating of 4.9 out of 5 stars, backed by numerous positive online reviews, reflects the satisfaction and appreciation of our clients. These endorsements are not just numbers; they're a reflection of our unwavering dedication and commitment to serving you.
So, if you're looking for unmatched quality, round-the-clock support, and a team that's been trusted for over two decades, we, at Energy Pro Heating & Cooling in Portsmouth, are here to meet and exceed all your HVAC expectations.