Cooling Services: Installation, Repair & Service Near Portsmouth, VA
If you live in Portsmouth, VA, you are fortunate to live in one of the most comfortable areas in the state. However, in the summer you will still need the help of an air conditioner to ward off the worst of the heat and keep temperatures inside comfortable and cool.
At Energy Pro Heating & Cooling, we have provided services in the area long enough to know the climate and be able to provide unique services that are well suited to Portsmouth families. We are excited to hear from you and to help you with your cooling needs.
Air Conditioning Installation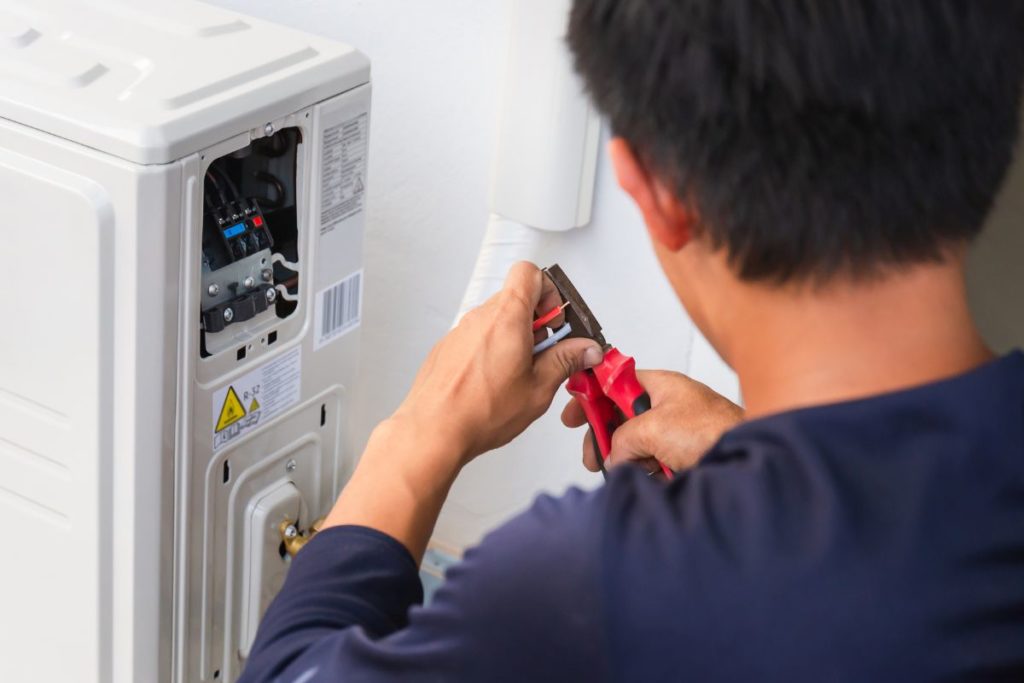 When your air conditioner gets old, it can become far more of a nuisance than a convenience. Frequent breakdowns and unreliable cooling can quickly break your resolve and make you wish for a newer model. We can make this possible with our ac install services. The needs of each of our customers are different, so we are always ready to listen to your situation and answer your questions about the options that you have and the installation process.
If your current AC is more than 10 years old, this may be a good indication that you will soon need a replacement. As it gets older, it also becomes less efficient. Switching to a new system can have a huge effect on your monthly costs. When we come to install a new AC in your home, we will check the size of your home and look at the ductwork to make sure we install a unit that is suited to your home's size and specific cooling needs.
Many people in Portsmouth already have ductwork built into their home which they use for cooling and heating their home. If you do not, however, we are experts in installing ductless ac systems. These air conditioners can be installed in any space and they are quiet, compact, and exceptionally efficient. Many people also choose ductless systems to cool rooms that are not sufficiently cooled by your existing central air conditioner, or which are not connected at all. They are a wonderful solution for your garage or workshop and they are preferred by many instead of a window unit.
AC Repair
Sometimes when your air conditioner is still under 10 years old and the cost to repair the system isn't very great, we will recommend an AC repair. While a broken compressor or evaporator coil may necessitate a replacement, other repairs such as a problem with the thermostat, circuit board, or capacitor will probably be less of an expense. You can work with our technicians at Energy Pro Heating and Cooling to find out whether a repair is worth the money. We will always provide accurate estimates so that you know how much it will cost to make the repair which can be helpful during the decision-making process.
An air conditioner that is in need of repair will begin to work less efficiently. It may blow out less air than you are used to, or the air coming out may not be as cold. You should also pay attention to an increase in your energy bill, or an increase in the amount of time your system has to run before cooling off your home. Both of these can indicate a problem with your air conditioner. When any of these things happen, we are just a quick phone call away, and we will set up a time that is convenient for you to come and fix your system. If you have been searching for "AC repair near me" that is affordable, convenient, and excellent, Energy Pro Heating and Cooling is always ready to serve you.
Air Conditioning Maintenance
If you want to give your system a chance at lasting 10 years or more, ac maintenance should be one of the first things on your list. When all of the components of the system are in good condition, the other parts of the unit will be less likely to break down. Maintenance includes keeping mechanical parts well lubricated so that friction does not cause damage, cleaning the system to keep dust and debris away from inner components, and changing the filter often.
All of these items can be achieved by scheduling an AC tuneup. The warranty on some models requires an annual tune-up, so you should always check the user manual to keep from having your warranty voided. Tune-ups can also help you avoid emergency repairs, and they will make your system last longer. Additionally, if you are struggling under the weight of expensive utilities, having regular tune-ups can increase the efficiency of your system and ensure that your AC is not adding to the costs. Our maintenance services are detailed and comprehensive, and you can rest assured that your air conditioner is functioning at the very height of its ability during the whole summer.
Our Service Club
We know that air conditioning repairs, installations, and maintenance are not always cheap. However, regular attention to your HVAC system is essential for keeping long-term costs lower. When you want to do everything you can to avoid having to replace your system several years before you were expecting to, you can join our Service Club.
A Service Club Membership starts at an affordable monthly rate and is a wonderful way to take care of your AC without emptying your pockets. When you have a membership, you get reduced service fees, a 15% discount on repairs and products, and two complimentary tune-ups every year. You also get guaranteed front-of-the-line service, usually within 24 hours for your repairs and installations.
We know that you have choices when it comes to your air conditioner. We always strive to go above and beyond your expectations by having the friendliest customer service in Portsmouth in addition to our affordable prices and reliable quality. We hope that you give Energy Pro Heating & Cooling a chance by calling us for your next air conditioning repair or replacement.