Maintaining a comfortable and healthy indoor environment is essential, and HVAC systems play a significant role in that. Unfortunately, HVAC systems can experience problems that lead to discomfort and inefficiency. HVAC systems are responsible for heating and cooling our homes, so it's essential to ensure they function properly. Not only can HVAC repair improve the comfort of your living space, but it can also improve the efficiency of your system and save you money on energy bills.
At Energy Pro Heating and Cooling in Portsmouth, VA, we specialize in HVAC repair services. Our technicians have years of experience and receive ongoing training to stay up to date with the latest HVAC technology.
Energy Pro Heating and Cooling has been providing trusted and reliable services to the Portsmouth, VA area for years. Call us today at (757) 966-1000 or contact us online to schedule an HVAC repair service.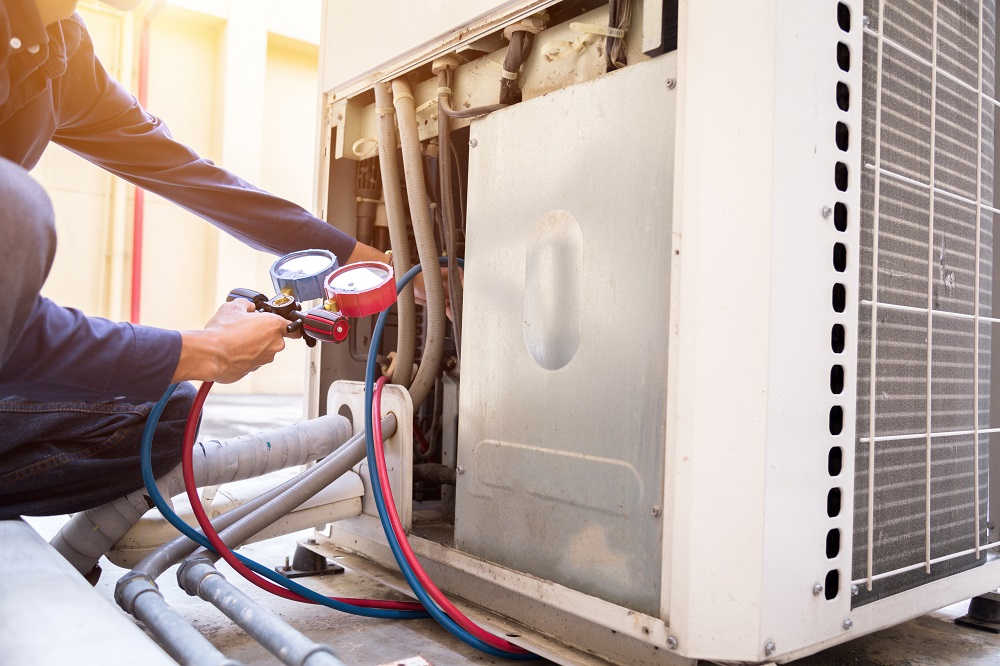 When Do You Need HVAC Repair
HVAC systems are essential in maintaining a comfortable temperature in your home. However, over time, these systems can experience wear and tear and may require repairs. So how can you tell when it's time to call a professional HVAC technician? Here are some common signs where you need HVAC repair:
Your system is making strange noises.
One of the first signs that you may need HVAC repair is if your system starts making strange noises. If you hear banging, popping, or hissing, it could signal that something is wrong with your system. These noises can indicate various issues, from loose parts to refrigerant leaks, so it's vital to have them checked out by a professional as soon as possible.
Your energy bills are increasing.
If you notice that your energy bills are starting to increase, even though you're not using your system any more than usual, it could be a sign that your system is not operating as efficiently as it should be. This can be caused by various issues, such as dirty air filters or refrigerant leaks. A professional HVAC technician can diagnose the problem and make the necessary repairs.
Your home is not comfortable.
If your home is no longer as comfortable as it used to be, it could be a sign that your HVAC system is not working correctly. This can be caused by several issues, such as a clogged air filter or a problem with the thermostat. If you're not comfortable in your own home, it's time to call in a professional for HVAC repair.
You see water around your unit.
If you see water pooling around your HVAC unit, it's time to call in a professional for repair. This could be indicative of a serious problem, such as a refrigerant leak, and should be addressed as soon as possible before any further damage is done.
What To Do If Your HVAC System Isn't Working
When your HVAC system isn't working properly, it can significantly impact the comfort of your home. What should you do if you're experiencing HVAC issues? If these steps don't resolve the issue, it's time to contact a professional HVAC repair company. At Energy Pro Heating and Cooling in Portsmouth, VA, we have a team of experienced technicians who can quickly diagnose and solve HVAC problems for residential customers. Don't suffer through an uncomfortable home – contact us for HVAC repair services today.
Why Choose Us for HVAC Repair
At Energy Pro Heating and Cooling, HVAC repair is our specialty. Our team of experienced professionals offers top-notch HVAC repair services in Portsmouth, VA. But what sets us apart from the competition? For starters, customer satisfaction is our top priority. We provide personalized attention to each of our clients and strive to always exceed expectations. Plus, we offer competitive rates and flexible scheduling options for your convenience. When you choose us for HVAC repair, you can rest assured knowing that we will complete the job efficiently and effectively. Why wait any longer? Contact us today to see how we can help with all your HVAC needs.
Trusted HVAC Repair Services in Portsmouth, VA
At Energy Pro Heating and Cooling, HVAC repair is our specialty. Our team of skilled technicians has years of experience in HVAC maintenance and repair, ensuring that we can handle any issue that comes our way. We proudly serve Portsmouth, VA and the surrounding areas, offering prompt and reliable services. Our commitment to customer satisfaction has earned us a reputation as the trusted HVAC repair provider in the area.
When you need HVAC repairs, call the professionals at Energy Pro Heating and Cooling to get the job done right. Call (757) 966-1000 or contact us through our website for more information or to request service. Our friendly staff is standing by to assist you.